"BUILT ON STRENGTH GUIDED BY VISION"

( click above image for e-COURT℠ / ICOCR Global services )
E-Court℠ ( view AU OrganoGram) provides an On/Off-Line platform for
Counsel & Consult Seekers & Providers in all Australian States ( Click below left-right arrows )
under global "service" tradenames/marks :E-COURT℠ , E-COUNSEL℠ and E-CONSULT℠

Click Australian State images for "fast" access to Member Registration
e-Court℠ who we are / what we do
We are e-Court℠ Legal Services Int'l. Pty. Ltd. ( hereafter called e-Court℠ ) - The company provides Counselling / Consulting & Conflict Resolution, and is the Australian subsidiary of ICOCR - The International Court for Online Conflict Resolution. The latter refers to services around the globe and is part of the Ottawa, Canada based the 3-D Network Co. Int'l Inc. ( 3-DNET ), a Holding Co. and online platform active in more than # 45 countries, also view Organogram. e-Court℠ AU Legal Services Int'l. Pty. Ltd. filed its charter on March 18 2019 with the Australian Company ACN Number 632298956.
e-Court℠.AU is an ON & OFF-line platform active throughout Australia, where Advice ( Counsel & Consult ) Seekers are linked to independent "arms-length" participating 'vetted" professionals who can provide competent, affordable, secure, transparent, speedy counselling and other resolution.
These professionals whilst not being employees of e-Court℠ have been thoroughly vetted prior to offering their services. View Counsel/Consult Seekers & Providers near bottom of this webpage. We are Australia's premier facilitator & most exciting interactive / in real time 24/7 ODR/ADR Network & we belong to the Int'l Court for Online Conflict Resolution Inc. ( ICOCR group of companies ).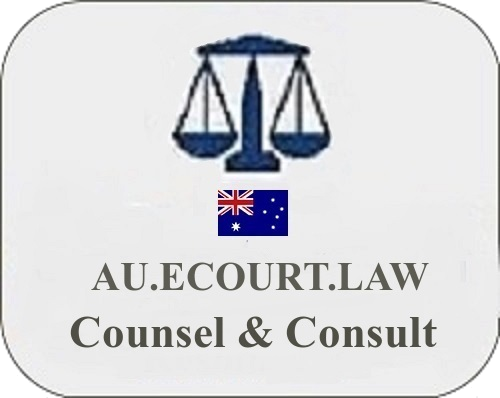 Our Mission statement:
e-Court℠ / PeaceKeeper aims to be a champion for the consumer, achieving this by offering passionate and visionary values. These are: Value for Money: To offer honest, simple, and transparent pricing. Quality of Service: To offer services without compromising any of e-Court℠'s values. Specifically to be professional and with unquestionable integrity. For the People: To offer Legal Counselling services for everyone, not just those who can afford it. Challenging: To offer new and innovative ideas, to always push the boundaries of conventional thinking. Force for Good: e-Court℠ would like to see itself as making a positive contribution to peoples lives and as a force for good. We achieve these goals by : what sets us.